Dared and Done: A dark secret, a happy ending
by Jamie Lutton
Everyone likes a love story where the hero and heroine have to overcome barriers to be with each ohter, succeed, and live happily ever after. This is the plot of many of our fairy tales, legends and mythology. fiction, movies and televion is populated by this sort of story.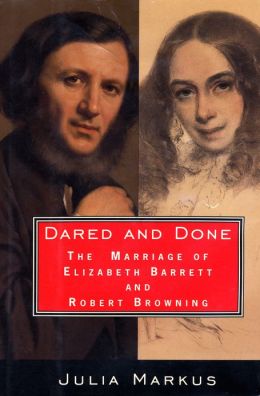 The rarity is finding such a story in real life. Even rarer is hearing about poets falling in love, and live happily every after. Most of the time, it seems, that when poets fall in love you get tragedies like the story of Ted Hughes and Silvia Plath, or that, as Tolstoy said, 'happy families are all alike', and the story of the romances are not interesting.
The story of Elizabeth Barrett and Robert Browning's romance, elopement and happy marriage in the face of adversity is a wonderful, gripping tale, and should be better known than it is nowadays. The romance of these two is known in a general way from English literature classes, the way we know that Shakespeare was English and lived in the time of Elizabeth l, but the details of their romance have been largely forgotten.
Neither Robert Browning nor Elizabeth are that popular anymore. Our grandparents read a lot more old poetry than we do, and these two used to be revered as greats. Robert Browning, especially, is considered the best English poet of the mid 19th century. I have been hearing about one poem of Robert Browning's all my life. but nothing else - My mother, who loved to read poetry aloud, or from memory, read My Last Dutchess to me, over and over
.
http://en.wikipedia.org/wiki/My_Last_Duchess
. to the point where I still mutter "too soon made glad'' under my breath, now and then...and I often pull this poem out and hand it to people who, say, only like Edgar Allen Poe's dark visions and no others.
There was a popular movie about the Brownings made 50 years ago, that was fairly accurate as far as it went - The Barretts of Wimpole Street. But there has never been a good, complete biography of this couple until 1995, when Julia Markus wrote the well-researched and well-written Dared and Done; the Marriage of Elizabeth Barrett and Robert Browning..
This book is a week by week account of how they had came to know and fall in love with each other.
Both were published poets moving in the same circles in 1840s London. Elizabeth Barrett was by far the more popular and successful poet of the two, and was a few years older. . She had been an infant prodigy; had begun to read at write poetry at age six,and reading and writing epics in Greek and Latin before she was 10; reading and studying Milton, Pope, and Shakespeare.
Intrigued by a poem that Robert Browning had just had published,, Elizabeth wrote a witty reference to it in one of her next poems. The intellectual circles of the time read poetry journals the way we read the Internet; it was a way of communicating ideas in verse form to each other. Elizabeth Barrett often put 'politics' in her poetry as a habit; she frequently wrote poetry denouncing slavery, and advocating, like Byron, Greek independence.
This poem she wrote provoked a letter from Robert Browning to Elizabeth, praising her work. In his first letter to her, Robert Browning wrote "I love your verse with all my heart, my dear Miss Barrett".
They corresponded for several months before they ever met in person. These letters are carefully annotated and selected to show the growing affection they had for each other. I have sat down and tried to read their collected letters on my own. I found them difficult to follow as they are full of classical allusions they slung back and forth to each other; referring to Greek and Roman and Italian poets that I have never read and am only distantly aware of. Dared and Done makes this couple as people a lot more accessible than their love letters on their own..
The drama in their story, what makes their letters of courtship fascinating to the modern reader, is that her father had forbidden her - and all her 11 siblings - from ever marrying.
This forced Elizabeth and Robert to have to 'hide in plain sight' while they grew to know each other over a year and a half of meeting and writing to each other, to then decide to elope and marry.
Robert, it seems, fell in love with Elizabeth after meeting her only a few times; it took him over a year of secret meetings and many many letters back and forth to win her heart, and to persuade her to disobey her father and elope with him.. The best of the letters are here in this book, annotated by the author.
Julia Markus, while researching the family's history in the West Indies, discovers the dread secret that the father was trying to hide, this discovery is the great achievement, and core of this book. Elizabeth's fathers bewildering behavior, in the eyes of modern readers, is made explicable.
SPOILER ALERT.
Elizabeth's father believed that they had 'black blood' in the family, who had lived in Jamaica for centuries. He was afraid that some of his grandchildren might look 'mixed'; so he wanted to have no grandchildren at all. This was an age of growing racism towards blacks in the West, to justify slavery. Race was the 'new idea' of the time, and being thought 'part-black' would have destroyed the Barrett's upper-middle class standing. . Elizabeth Barrett herself was dark complexioned, her husband's nickname for her was 'the Portuguese'. I urge anyone who wants a better undertanding of English Victorian mores, and paranoid racism of the 1840's should not miss this couple's biography.
It is also a lively account of two great spirits who were able to find each other and in the teeth of family opposition, run away and be happy together. There are so few happy love stories in the world, this one should not be missed by any lover of poetry, or biography.
Julia Markus also makes clear that Elizabeth Browning chafed at the restrictions of her age, and was a feminist, torn between family affection and wanting her freedom. In her case, happily, freedom won, and she was able to have a happy marriage. Some of her best poetry, like Love Sonnets from 'The Portuguese' are from her married life. The author also makes clear that Robert Browning saved her life; she was on the verge of death from opiate abuse and depression the winter before their meeting.. His passionate attachment to Elizabeth, his respect for her mind and his tender care of her is preserved in these letters, as well as her joy at finding a true soul mate.